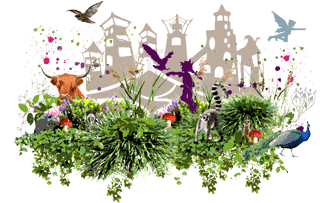 An Extraordinary Day Out!
Hobbledown Heath is opening in Hounslow in June 2022!  Our exciting new indoor and outdoor adventure park is built in the guise of three villages, set in beautiful woodland with a wide variety of farm and zoo animals as a backdrop.  Visitors will have the opportunity to climb 15 metre towers, explore a labyrinth of tunnels and secret passages, drive mining trawlers and dart through water sensors  … and that's just for starters!
Be one of the first to experience our Hobbly adventure with our limited edition First To Play Founders' Pass, on sale now. 
Make sure you register your interest and follow us on FB and Instagram to be kept up to date with all that is happening at Hobbledown Heath.
First To Play Founders' Pass
ON SALE NOW!
We are offering 250 lucky guests the chance to grow with the new Hobbledown and to be some of the first to experience all that's on offer.
Our exclusive "First To Play Founders' Annual Pass" includes:
A tree planted in our "Founders' Avenue" from a selection of native species (Poplar, Oak, Beech, Acer, Fir) with a commemorative wooden plaque (one per family)
Exclusive access to a selection of preview days before we open to the general public.
PLUS all the standard passholder benefits of a standard Hobbledown pass:
Unlimited Park Access
15% off Parties
15% off Experiences
Discounts off special events
Lifetime price guarantee – never pay a higher price as long as you renew your pass before your renewal date.
What you need to know:
Founders' Passes for Adults are £95 and passes for Children are £125
Under 2's are free but you will still need to register a Pass in their name with their Date of Birth.
If you have an Under 2 who will turn 2 years old before the Park opens, you will need to buy a normal child pass for them.
Each person visiting the Park will need their own Pass
Founders' memberships will only go live once we have formally opened our doors and your pass will be valid for 12 months from that date.
So, don't delay, buy your Founders' pass today and be a lasting part of Hobbledown Heath!